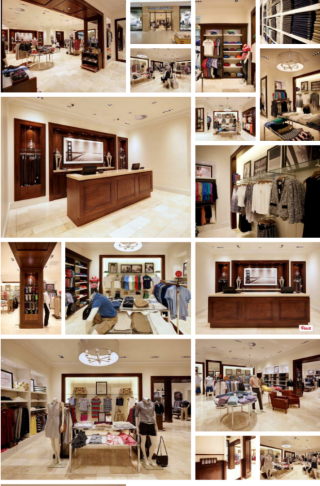 I have a passion for residential design and I just love surrounding myself with pretty things. I also design and build bespoke furniture pieces. But my day job is in Retail, I am the head designer and detailer for a reputable Joinery and Shopfitting company.
If you are not familiar with the term Shopfitting, here is a short definition. Shopfitting refers to the industry of furniture for retail environments. A shopfitting firm will design, manufacture, supply and install fittings for retailers. Most companies offer a Turnkey solution developing  an empty shell from design to implementation to handover, eliminating any other contractors.
The aspect in which I am mostly involved in is the design of the shop and the detailing of the manufactured items to be fitted.  Retail design could be seen as an aspect of marketing and considered part of the overall brand strategy. The design of a store, apart from aesthetics, is a well planned process to optimize the use space (since tenants pay rent per square meter). Retail design factors include shopfront, displays, fixtures,  fittings, furnishings, lighting, ceilings, flooring and store layout to create a brand or specific appeal. I will probably elaborate on this topic in a future blog.
In a series of blogs, in between, I will feature some retail design under "Retail designers – don't try this at Home" . I'd like to start with Banana Republic.
Jacobs Joinery and Shopfitters collaborated with Banana Republic's store planning team to introduce South Africa to the brand in both Sandton City and Cavendish Square. Services included site preparation, design development, specialized detailing professional services, manufacturing of all the shopfitting items.
Since 2014, Banana Republic has revamped its image from a corporate  label to a more casual brand. Ultimately taking the customer back to its roots. Banana Republic was founded in 1978 and was best known for its safari wear, a fusion between luxurious and casual. Much like their store interiors, it has been simplified from the over-the-top opulence to a slightly more casual everyday approach.
The following photos are courtesy of Jacobs Joinery and Shopfitters, the prefered and only shopfitting company in Africa selected exclusively to manufacture and install for both
GAP and Banana Republic.