I wish that I could be like the Cool kids
So what can you do to make your house hip? I mean without having the time machine from "Back to the Future" and going back in time and making your parents buy really awesome retro furniture so that you can potentially inherit it one day. Hipster Interiors are seriously trending right now, but you don't have to necessarily classify as a Hipster. I mean what is it with all these labels, right? Join the cool kids with these tips for giving your home a creative, colourful or edgy vibe. Polaroids to inspire.
Get industrial
Any space that used to be a former industrial something is a perfect hipster haven. Also, consider leaving things unfinished for a carefully orchestrated "Who cares?" look.
Old-school is Cool
The older, more beat up and out of date a piece is, the more hipster potential is available. A hipster home is all about bringing in affordable retro furniture, so expect to see things from years gone by – especially dark wooden sideboards, suede chairs and old lampshades. A floral cushion you'd see at ouma's place is very at home here.
Labels
Although you refuse to adhere to any labels, your hipster home must always label something that doesn't need a label so people can appreciate your sense of irony. There may be a possibility that they won't get it, don't take it personally. Start with doors, shelves, walls, floor tiles, or anything that gives you a reason to test how unintelligent people are so you can school them on the word irony.
Display everything
Framing isn't just for family photos. Use small, large and medium frames to mix up everything from landmark photographs, old-timey portraits, small modern art pieces and collectibles. Or use some of my tips for framing without frames entitled "Art Without Borders"
It's Eclectic
In fact, it takes a lot from the Boho trend in that it layers decor, utilises travel finds, decorates with embellishments and feels relaxed. The key difference is that the hipster trend is not at all coastal or ethnic.
Surround yourself with you
Don't be afraid of showcasing the things you treasure. Displaying knickknacks that remind you of an awesome vacation or a dear friend will make you much happier. My sister calls these 'Kaggel Kakkies'
Do it yourself
The easiest way to have a space that truly reflects who you are is to style it yourself with custom-made pieces.
No mainstream packaging
So this isn't anything new but definitely worth adding. So if you are not putting everything in jars you are disqualified as a hipster. Cereal, bottled water, marbles, everything – put it in a jar. This way you can, hypothetically, buy "No Name" brands and no one will know. Just blame the lack of packaging on your refusal to acknowledge brands or their visible message
Expose that brick
Gritty, raw elements balanced with cozy, lighter accents create a unique style blend and some awesome texture.
Whimsical Juvenile
The decorative items in a hipster home are cheap and crafty with a slight nod to the juvenile. Fairy lights, washi tape, affordable art and tea light candles bring this look to life and allow it to be updated with ease.
Ironic throw pillows
All good hipsters have ironic throw pillows, much like ironic t-shirts. It is also fun having your own printed featuring some cartoon character or a movie star like Jodie Foster or Tom Selleck or someone from Fullhouse, or any star that is no longer relevant but could potentially become relevant, thus you have known all along how amazing they are. Kicking back is what a hipster home is all about. So you can never have enough pillows, blankets, rugs and beanbags.
Natural Elements
Take it to the next level by supporting a small local business or picking up old pallets and make sure that it's done DIY. Reclaimed wood has no expectations from you, it's chill. Sadly in SA it's not that easy to get hold of because… (oh wait that topic is for a future blog). Be sure to follow the hipster essentials guide to ensure you're the coolest, non-conformist of them all.
The Typewriter
Every hipster home must have a typewriter and bonus points are given for it being an alternative color and even an extra few points if it is in working condition. Five points will be added if you know how to use a typewriter. Ten extra bonus points if you use it ironically in your study area and place it in front of you Mac. You could even hang the typewriter against the wall. Also, imagine what would happen if you had two typewriters, imagine the possibilities.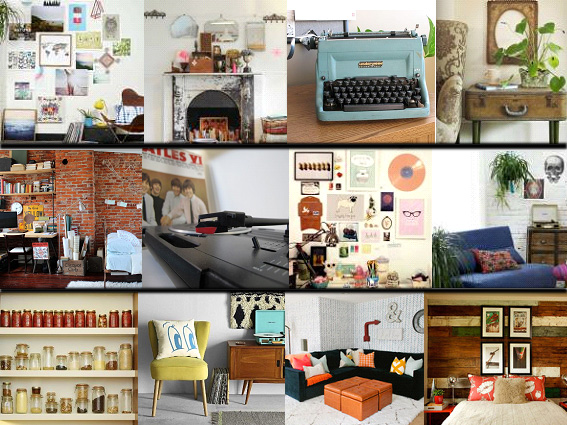 Rock 'n' Roll
Old records, some musical instruments, a little mess; these are the elements that finish off the look. A framed Bowie or Blondie poster would be idea in a hipster home. You can't call your house a hipster home if you don't have a record player. You must use use it when guests come over to showcase your extensive vinyl collection. This is a great conversation starter, you could discuss your affinity for vintage albums as you lament how music never improved past 1969. Never mind the fact that you weren't born yet, it doesn't exclude your spirit from having been present, so own up to it.
It's Roadside Chic
Don't be afraid to incorporate a "found object" or piece of sculpture into a space that isn't necessarily a piece of furniture.There's a definite shabbiness to the hipster trend, so roadside finds are a must-have for this look. Old milk crates, graffiti walls, second-hand crockery and anything mismatched is very fitting.
Environmentalism
You need a bucket outside to collect rainwater– people will be in awe of how environmentally conscious and brilliant you are.
The beauty of this look is that it mixes different design ideas with little thought or planning. Happy Hipsterdom!