I love blogging about 'everyday' interior design, my day-job is mostly Retail, Corporate and Restaurant Design. But my hobby is Residential design – design for your home and DIY projects. I've recently been asked to help with the conceptual design for a 1960's apartment, this got me really excited. Hence this entry about Retro Chic…
Every few decades, old seems to make a comeback, but with a modern twist. In this case Retro Chic, a style whereby some 60's and 70's inspired elements are brought back in order to create a new fun and unique style. A great way to pull in the retro chic style is to balance some bold 60's inspired colours and balance these with a neutral hue.  This style provokes a strong sense of nostalgia and in this specific case acts as a precedence for my upcoming project – to ultimately take this apartment back to its original prime.
Probably the most recognizable element about the retro style is colour blocking and bold patterns.  These can easily be introduced as wallpaper, artwork or even a rug. Be mindful of what you pair together, especially with bold geometrical shapes.  Don't use more than 3 colours to avoid a cluttered appearance.  For example, if you use a feature wallpaper, rather choose a more neutral colour couch. Introduce elements that make a grand visual impact, such as golden metallic surfaces, bright colours, flowery patterns and retro décor.
To present a sense of nomadic design, look at some inspiration of Bohemianism, the Boho style, this style is once again finding favour in both fashion and interiors.  This style is delight in the acceptance of worldly charm and the process of hunting for interesting finds – especially at places such as the Rosebank Rooftop market. The Bohemian style has evolved considerably to adapt to a more contemporary urban lifestyle, but to its backbone is still strongly inspired by the 60's and 70's.  The sky is the limit with Boho – think art, books, rugs, furniture, fabrics, cushions, sculptures, lamps and plants – especially plants! Your aim is to create a cozy layered space full of life, with a back story and a sense of well-travelled adventure.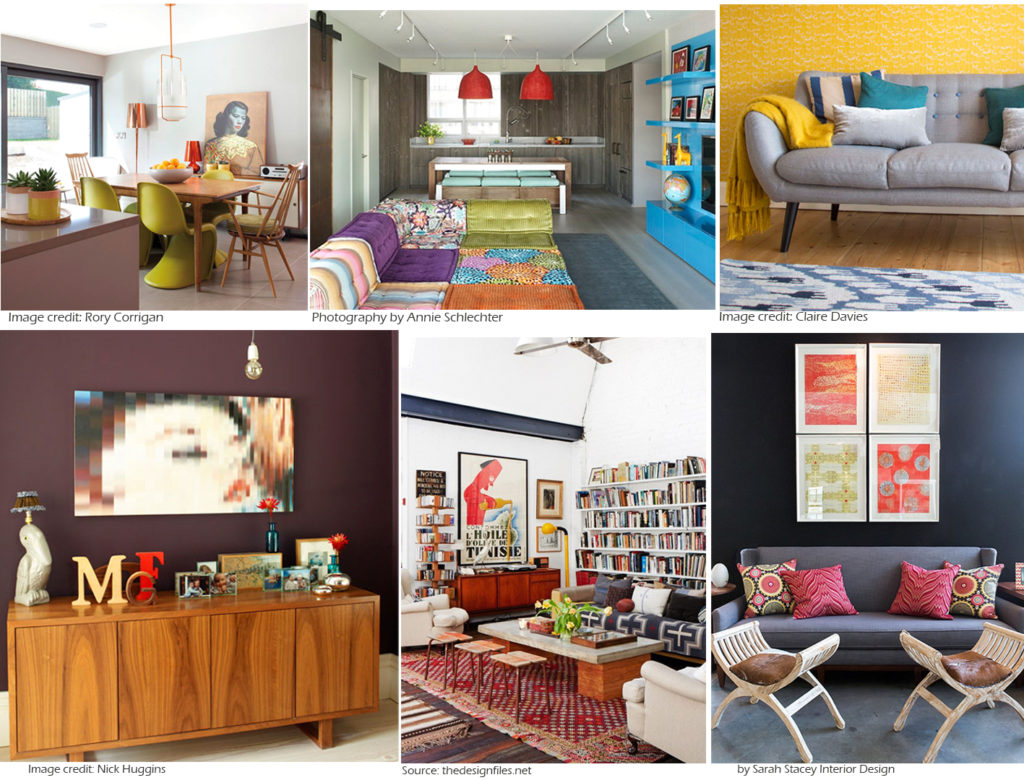 For some SA inspiration visit these places:
– For the Capetonians, a definite must is visiting The New Modernist in Bo-Kaap, also check out their website: thenewmodernist.com
– In Jo'burg MØDERNIST in Parkhurst is the go-to place for authentic modernist pieces
– For some amazing lighting fixtures there is no place like http://hoiploy.com/ Have a look at their "Molecule 8 Brass" and imagine this as a central feature above your dining table.
– Esque is a great website for all your furniture and decor essentials https://www.esque.co.za/collections/all-furniture Like the Acapulco chair!
– I've spotted most treasures walking the streets of Parys, it is totally worth the trip. I think Parys is where all retro furniture retire. One of my favourite places is Paris Antiques & Collectibles, they also have an awesome collection of typewriters, #fyi
-Old and Interesting is a must, they have two lovely stores – one in Norwood and the other in Kensington. http://www.oldandinteresting.co.za/
-If you're anything like me and believe music should be played on vinyl, this is the place to shop https://www.crosleyshop.com/ for some awesome turntables.
-Also check out some collection of vinyls -(although this could be an entirely new blog post) here are some places to visit: Record Mad in Linden, Collectors Treasury in Maboneng, Microgram in Northcliff or online check out Mr Vinyl https://www.mrvinyl.co.za/ and http://www.vinylcafe.co.za/
-Mint for all your unique retro furniture needs https://www.minttheshop.com/
-For the best couch and other furniture: https://za.sofacompany.com/?gclid=CMKg-e2OitICFVS4GwodM8IBEw
-And lastly, Decade Midcentury Modern specializes in midcentury classics. They're situated at 44 Stanley in Milpark
For a complete list of items I am specifying for this project, including costs and suppliers, please e-mail me on mia@bevel.co.za. I'll be happy to share this information with you.
Keep me in mind on your Retro Chic adventure and drop me an e-mail for any advice or guidelines and remember I also specialize in designing and making bespoke retro inspired furniture – mia@bevel.co.za
[/et_pb_text][/et_pb_column][/et_pb_row][/et_pb_section]